New Arrivals
Explore joy at its purest with our newest arrivals!
Alivia in the press
"Exciting new fashion brand Alivia features art from creators with disabilities."
Inspiring a deeper connection to the clothes we wear
A narrative in every stitch

Every collection begins by transforming the artwork of creators with disabilities into bold prints and intricate embroidery —stitching a human story into every piece.

Ten percent of every purchase is donated directly to the creator's local non-profit, enabling a lasting impact for future generations of creators with disabilities.

Every garment includes a unique scannable tag allowing wearers to experience and share the personal story behind their clothes — and the direct impact their purchase made.
Spring into Love
Wear your heart on your sleeve with our new Spring collection.
Featuring voluminous sleeves and ruffle details, accentuated by vibrant prints and intricate embroidery.
Bold brushstrokes infuse every piece with a human story.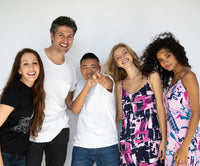 Our Story
Alivia provides voice to the previously unheard, showcasing the diverse talents of people with disabilities by using fashion as a powerful connection platform.
Learn how we started and where we're going.